Easter Sunday 4th April 2021
Contact us to request our weekly newsletter
---
Welcome to our Easter Day Online Worship
Jesus is Risen and as a Church family we celebrate today in our homes and gardens.
Wherever you are viewing today, we pray that you will know the peace and power of Jesus in your life and we would love for you to make contact with us if you are looking to join us as a church online, or when we return to the building in the next few weeks.
With our love and blessings.
---
Welcome
by Clive Jennings
"Amazing Grace" from Christchurch Tower at 10:30
If you are not a regular giver, please consider whether you would like to support our mission at Christchurch by clicking here. ---
No Strings Attached
No Strings Attached are so excited that it's Easter Sunday so they wanted to help us celebrate.
They are singing together on Zoom but it looks like Barnabas the sheep is running a bit late… ---
The Garden the Curtain and the Cross
The children from Christchurch and Kenn Road have been busy at home rehearsing, dressing up, painting, building Lego, narrating and recording to bring us the story of why Easter Sunday is such an amazing day.
Our play today is taken from the fantastic picture book "The Garden, The Curtain and the Cross". Copies are available to purchase from the Good Book Company. ---
Reading
given by Tina Mostert
(click play button above to listen)
Genesis 3:8-15 (NIV)
8 Then the man and his wife heard the sound of the Lord God as he was walking in the garden in the cool of the day, and they hid from the Lord God among the trees of the garden. 9 But the Lord God called to the man, 'Where are you?'
10 He answered, 'I heard you in the garden, and I was afraid because I was naked; so I hid.'
11 And he said, 'Who told you that you were naked? Have you eaten from the tree from which I commanded you not to eat?'
12 The man said, 'The woman you put here with me – she gave me some fruit from the tree, and I ate it.'
13 Then the Lord God said to the woman, 'What is this you have done?'
The woman said, 'The snake deceived me, and I ate.'
14 So the Lord God said to the snake, 'Because you have done this,
'Cursed are you above all livestock
and all wild animals!
You will crawl on your belly
and you will eat dust
all the days of your life.
15 And I will put enmity
between you and the woman,
and between your offspringa] and hers;
he will crushb] your head,
and you will strike his heel.'
Hebrews 2:14-17 (NIV)
14 Since the children have flesh and blood, he too shared in their humanity so that by his death he might break the power of him who holds the power of death – that is, the devil – 15 and free those who all their lives were held in slavery by their fear of death. 16 For surely it is not angels he helps, but Abraham's descendants. 17 For this reason he had to be made like them,a] fully human in every way, in order that he might become a merciful and faithful high priest in service to God, and that he might make atonement for the sins of the people.
---
Message
"Eden, The Promise and Jesus"
by Adam Wingrove God had a plan to save you from the beginning of sin.

When we hide, God is asking "Where are you, who told you you were naked?" Because the Victory over sin, that has been spoken over generation after generation of sinners, is ours to take hold of today.
---
Today we come to pray with renewed hope and confidence as sin and death are defeated. Praise to you Jesus, who achieves this for us! Hallelujah!
Lord Jesus, who meets us in the garden, restoring hope, wholeness and life,
We pray for those still looking at the tomb and so seeing an end to their dreams.
We pray for those we know who are lonely, locked in the dark by their grief and missing loved ones, that your light of hope will flood in and surround them.
We pray too for communities in despair – like the Rohingya in fire-damaged refugee camps, unwanted, uncared for, with nowhere to go. Lord move hearts to make room for them.
And we pray for your Church; that we might stand with the uncared for, call out injustice, and reach out to all who need to find hope again.
Lord may we see stones rolled away and may we all be filled with the hope of the angels.
Lord Jesus, who meets us in the garden, restoring hope, wholeness and life,
We pray for those looking at the emptiness, and so fearing the worst has happened.
We pray for those we know who are without jobs, facing challenges, missing friends or just seeing the empty half of the jar right now. Lord, show them a brighter future where love, joy and hope have returned.
We pray for nations destroyed by endless conflict, oppression or mistrust; like Libya and Myanmar, that kindness, fairness and goodness will not be supressed, but instead, will rise.
We pray for our churches, worried about empty buildings and pews, that they may instead see opportunity as people hear of where Jesus can be found.
Lord, may we not see what is missing, but rather notice the signs of life, and rush out to share the good news.
Lord Jesus, who meets us in the garden, restoring hope, wholeness and life,
We pray for those seeing only what they expect, and so don't notice the signs of your presence.
We pray for those we know upset and afraid because of false promises, fake news, or just hurtful exchanges, that they will find your healing and truth with reconciliation.
We pray for nations that choose self-protection, instead of generosity and we ask especially for an equal sharing of covid vaccines, for fairer trading and more action to protect the planet.
We pray for your Church, speaking in a suspicious world, to boldly tell of your love, your unity and your healing. May we all hear your voice through the white noise, and gladly follow your calling.
Risen Jesus, be with us as we rush away to tell others the truth: That you are alive and here in our midst; offering an end to sadness, restoration for our badness, and giving purpose and gladness, today and always.
Amen
And now we come together to say the Lord's Prayer:
The Lords Prayer
Our Father in heaven,
hallowed be your name,
your kingdom come,
your will be done,
on earth as in heaven.
Give us today our daily bread.
Forgive us our sins
as we forgive those who sin against us.
Lead us not into temptation
but deliver us from evil.
For the kingdom, the power,
and the glory are yours
now and forever. Amen.
On Tuesdays and Fridays 0800-08.30, Prayer 4 Clevedon pray together into topics far and wide (over Zoom). To give this a try, ask Tim Simpson for the link: prayer4clevedon@gmail.com
If you would like someone to pray for you, or with you for something important to you, the contact for the Prayer Sheet and Prayer Chain is Jean Balcombe: prayer@christchurch-clevedon.org.uk 07810 027820
---
Worship Playlist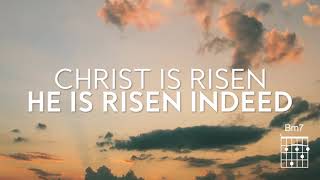 ---
Help and Support
The contact for the Prayer Sheet and Prayer Chain is Jean Balcombe: prayer@christchurch-clevedon.org.uk 07810 027820
For practical support for those isolating or shielding, there is a group of volunteers who will happily help out. For contact details visit Clevedon aid. Make use of those in your home group, and if you would like to be part of one contact our Carolyn Waite our home group coordinator through the church office.
Lastly, don't hesitate to contact us through the website or if urgent though the contact details on the newsletter.