Sunday 11th July 2021
Contact us to request our weekly newsletter
---
Welcome
by Russell Herbert
If you are not a regular giver, please consider whether you would like to support our mission at Christchurch by clicking here. ---
Reading
given by Russell and Eleanor Herbert
(click the play button above to listen)
Nehemiah 9:1-28 (NIV)
The Israelites confess their sins
1 On the twenty-fourth day of the same month, the Israelites gathered together, fasting and wearing sackcloth and having dust on their heads. 2 Those of Israelite descent had separated themselves from all foreigners. They stood in their places and confessed their sins and the wickedness of their fathers. 3 They stood where they were and read from the Book of the Law of the Lord their God for a quarter of the day, and spent another quarter in confession and in worshipping the Lord their God. 4 Standing on the stairs of the Levites were Jeshua, Bani, Kadmiel, Shebaniah, Bunni, Sherebiah, Bani and Kenani. They cried out with loud voices to the Lord their God. 5 And the Levites – Jeshua, Kadmiel, Bani, Hashabneiah, Sherebiah, Hodiah, Shebaniah and Pethahiah – said: 'Stand up and praise the Lord your God, who is from everlasting to everlasting.'
'Blessed be your glorious name, and may it be exalted above all blessing and praise. 6 You alone are the Lord. You made the heavens, even the highest heavens, and all their starry host, the earth and all that is on it, the seas and all that is in them. You give life to everything, and the multitudes of heaven worship you.
7 'You are the Lord God, who chose Abram and brought him out of Ur of the Chaldeans and named him Abraham. 8 You found his heart faithful to you, and you made a covenant with him to give to his descendants the land of the Canaanites, Hittites, Amorites, Perizzites, Jebusites and Girgashites. You have kept your promise because you are righteous.
9 'You saw the suffering of our forefathers in Egypt; you heard their cry at the Red Sea. 10 You sent miraculous signs and wonders against Pharaoh, against all his officials and all the people of his land, for you knew how arrogantly the Egyptians treated them. You made a name for yourself, which remains to this day. 11 You divided the sea before them, so that they passed through it on dry ground, but you hurled their pursuers into the depths, like a stone into mighty waters. 12 By day you led them with a pillar of cloud, and by night with a pillar of fire to give them light on the way they were to take.
13 'You came down on Mount Sinai; you spoke to them from heaven. You gave them regulations and laws that are just and right, and decrees and commands that are good. 14 You made known to them your holy Sabbath and gave them commands, decrees and laws through your servant Moses. 15 In their hunger you gave them bread from heaven and in their thirst you brought them water from the rock; you told them to go in and take possession of the land you had sworn with uplifted hand to give them.
16 'But they, our forefathers, became arrogant and stiff-necked, and they did not obey your commands. 17 They refused to listen and failed to remember the miracles you performed among them. They became stiff-necked and in their rebellion appointed a leader in order to return to their slavery. But you are a forgiving God, gracious and compassionate, slow to anger and abounding in love. Therefore you did not desert them, 18 even when they cast for themselves an image of a calf and said, "This is your god, who brought you up out of Egypt," or when they committed awful blasphemies.
19 'Because of your great compassion you did not abandon them in the desert. By day the pillar of cloud did not cease to guide them on their path, nor the pillar of fire by night to shine on the way they were to take. 20 You gave your good Spirit to instruct them. You did not withhold your manna from their mouths, and you gave them water for their thirst. 21 For forty years you sustained them in the desert; they lacked nothing, their clothes did not wear out nor did their feet become swollen.
22 'You gave them kingdoms and nations, allotting to them even the remotest frontiers. They took over the country of Sihon king of Heshbon and the country of Og king of Bashan. 23 You made their sons as numerous as the stars in the sky, and you brought them into the land that you told their fathers to enter and possess. 24 Their sons went in and took possession of the land. You subdued before them the Canaanites, who lived in the land; you gave the Canaanites over to them, along with their kings and the peoples of the land, to deal with them as they pleased. 25 They captured fortified cities and fertile land; they took possession of houses filled with all kinds of good things, wells already dug, vineyards, olive groves and fruit trees in abundance. They ate to the full and were well-nourished; they revelled in your great goodness.
26 'But they were disobedient and rebelled against you; they turned their backs on your law. They killed your prophets, who had admonished them in order to turn them back to you; they committed awful blasphemies. 27 So you handed them over to their enemies, who oppressed them. But when they were oppressed they cried out to you. From heaven you heard them, and in your great compassion you gave them deliverers, who rescued them from the hand of their enemies.
28 'But as soon as they were at rest, they again did what was evil in your sight. Then you abandoned them to the hand of their enemies so that they ruled over them. And when they cried out to you again, you heard from heaven, and in your compassion you delivered them time after time.
---
Message
"A Good Confession"
by Clive Jennings
The video "A Transparent Heart" will lead the message, provided by CV Resources. The seventh in our series looking at Nehemiah.
In our reading today, the wall has been completed yet the people realise that they could so easily slip back into their old ways as so they confess not only their own sins but acknowledge the rebellion of those who came before them and through their act of confession they found a whole new freedom to worship and praise God afresh.
Today we explore what a good confession can bring to our lives and discipleship and like Nehemiah's people, how a good confession can bring new life and freedom.
---
7 Ways to Confess Well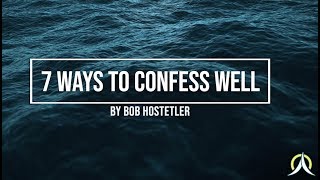 ---
Prayer
Led by Sam Thompson
(click the play button above to listen)
Father God, we thank you that you are a loving God, and when we separate ourselves from you, when we anger you and when we fall short, that you love us and forgive us. Lord as we reflect on this past week, help us to be encouraged by the things we got right, but to learn and be cleansed from the things we got wrong. Help us to reconcile broken relationships caused by our errors of judgment, and to share the love you have given us, to those around us.
Father God, we pray for our country and our government, as we approach the end of this time of restrictions on our lives, we pray that we will exercise wise judgment, and be considerate towards others who are at different stages of coming to terms with this change. We pray for those who are excited about seeing friends and family again, going to restaurants and on holiday, but we also pray for those who are nervous about returning to a normal way of life. We continue to pray and give thanks for all NHS frontline staff and key workers, who put themselves at risk every day to keep society going. We pray for those who have been ill and bereaved this last year, Lord be with them and comfort them. We thank you for the hope the roll out of the vaccine programme has brought us, we pray for the process of distribution and administering of the vaccines, not just in this country but globally.
We pray for teachers and support staff, we give thanks for their resilience and perseverance as they navigated a safe return to school, and we pray Lord that you will continue to keep them safe in school while the virus is still circulating. We pray for all children and young people, help them to flourish in their learning following this period of disruption, and give them your peace during this difficult time.
We pray for those affected by the building collapse in Miami, we pray for the loved ones of those who died, especially those whose bodies are still missing in the rubble, Lord surround them with your peace and love at this time. We pray for those who have been seriously injured and for the doctors and nurses who are caring for them.
We pray for your Church as we seek to navigate a way forward following the relaxation of restrictions. We give thanks that we will be freer to return to a more normal way of life, but Lord help us to be considerate to those who are apprehensive. We pray for those who have struggled to connect with church during the pandemic, and who are feeling isolated and somewhat discombobulated with where they are in their faith. Lord we also give thanks for those who have interacted with church online, which has allowed their faith to deepen, help us to nurture that gift as we move on.
And now we come together to say the prayer Jesus taught us.
The Lords Prayer
Our Father in heaven,
hallowed be your name,
your kingdom come,
your will be done,
on earth as in heaven.
Give us today our daily bread.
Forgive us our sins
as we forgive those who sin against us.
Lead us not into temptation
but deliver us from evil.
For the kingdom, the power,
and the glory are yours
now and forever. Amen.
On Tuesdays and Fridays 0800-08.30, Prayer 4 Clevedon pray together into topics far and wide (over Zoom). To give this a try, ask Tim Simpson for the link: prayer4clevedon@gmail.com
If you would like someone to pray for you, or with you for something important to you, the contact for the Prayer Sheet and Prayer Chain is Jean Balcombe: prayer@christchurch-clevedon.org.uk 07810 027820
---
Worship Playlist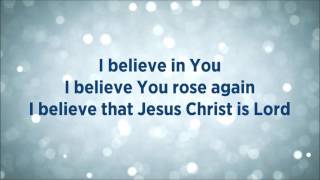 ---
Help and Support
The contact for the Prayer Sheet and Prayer Chain is Jean Balcombe: prayer@christchurch-clevedon.org.uk 07810 027820
Make use of those in your home group, and if you would like to be part of one contact Carolyn Waite our home group coordinator through the church office.
The Church is open Mondays, Tuesdays and Thursdays, 9.30am-2.30pm, but we do recommend calling first on 01275 871483. Don't hesitate to contact us through the website or if urgent through the contact details on the newsletter.