--- The Generosity Project – Week 5
This is the last week of our series "The Generosity Project".
What distracts you from passing on the love you've been given?
If you are not a regular giver, please consider whether you would like to support our mission at Christchurch by clicking here.
--- ---
Suzy Shares Some Love
With a little help from a few friends.
Hi, it's Reverend Suzy here, I'm just letting you know what I've been getting up to this week. I really love my job and it's on days like this that I really love my job! It's nearly Valentine's day and I'm surrounded by chocolates and cards and sweets, so what's not to like? But for me, it's not because my husband has bought me a special Valentine's gift, it's because I've been spending the day putting together some 'bags of love' from our lovely Christchurch community that we're going to deliver out this weekend to some local care homes in Clevedon.
Valentine's Day is traditionally a day that we remember romance, but it's also a perfect opportunity to go out and bless our local community by surprising staff and residents from the local care homes. Many of the residents will have been in lock-down for nearly a year hardly seeing their family or friends at all. Maybe some don't even have family to visit them. Also, the staff have been working so hard for the past year.
The bags contain some really nice things – diabetic sweets for those that can't have sugar, chocolate hearts, beautiful handmade cards and some nice skin cream for the staff for their hands.
So, I really want to say a big thank you to all the wonderful children at Christchurch and St Nicholas Chantry and their families who, between them, have managed to make 132 cards. I can't quite believe it! I've written in all of them – messages to the residents. Every single one is beautiful; you really are a clever and creative bunch!
So, thank you so much, we really couldn't have done it without you. I know that the residents are going to love receiving these cards from you, it will make their day. It is so wonderful that in these horrid, crazy times of COVID, that as a church congregation we can still find opportunities to bless our local community and show them the love of Jesus. Bless you all and see you soon.
---
Family and Children's Activities
for our younger members
---
Reading
given by Tina Mostert
(click play button above to listen)
---
Message
"Loved Up Generosity"
by Clive Jennings
The video Clive refers to is "On Valentine's Day…" at the top of the page. As we come to the close of our series in the Generosity Project we explore on this 'Valentine's day' how love and generosity meet. Todays Bible reading encourages us 'Do not merely listen to the word, and so deceive yourselves. Do what it says'. As we enter into Lent may we build on our generosity, love and care for each other and the community we are called to serve and 'Do what it says'.
---
Prayer
Led by Wendy Robinson
(click play button above to listen)
We come before you Lord, trusting in your goodness, hear us as we pray.
We meet together as one body, young and old, equal in your sight, all of us much needed stewards of this your church. We thank you for all that has led us to this point in our journey of faith and all that keeps us travelling with you. Come Holy Spirit, come quickly into our hearts.
Clear our minds so we can be a strong force for prayer equipped to take on everything that is working against us. Change us so we fulfil your vision of our best selves.
We pray for ourselves, that you will provide all we need each day, for our physical and mental health, that we will never delude ourselves into thinking we can survive on our own without anybody else's help. We are so thankful that the Living Life to the full mental health course is up and running and already impacting lives and look forward to a time when we all have a greater awareness of our own and each other's vulnerabilities and strengths. We thank you too for the difference that Christian volunteers are making supporting children and families through the TLG projects, in maintaining confidence building while schools are shut and through the Make Lunch project.
As we offer our regular prayerful support to these initiatives please prompt us to search our hearts to see if there is anything else we can do or give to further this work.
Outside of Britain, we turn our thoughts to children unable to go to school, who are hungry, traumatised, exploited. We pray for countries at risk of exploitation because of a need to survive financially. We ask that you would empower and protect all those undertaking Christian missionary work abroad and the opportunities we have to learn first -hand about their work. We thank you too that we can support fair trade through our shopping and our church Traidcraft representative. And we pray for a breaking down of barriers worldwide so that there are no barriers to Christian brotherhood and sisterhood and that injustices abroad impact us as much as they do here and that we can rely on the information we get about them.
Loving Father we thank you that we are more alert to the needs of people less fortunate than ourselves now that our liberty is being curtailed and our prosperity and health threatened as a consequence of this pandemic. Give us trusting hearts that we may see beyond our current circumstances and accept what you are asking of us. Enlarge our generosity as we navigate this difficult time and show us your vision for ourselves and for our church.
We hear a call to action, from our reading from James today, to live godly lives, a life of service, where we hear God's word and act upon it, faithfully returning to it and, as a result, acting out of love and compassion. So on this day when love is celebrated in the name of St Valentine may we open our hearts wide to let in your generous and life-giving love. May we respond by pouring out more of the same in our thoughts and deeds as we experience that power that is without limits. As we pray the Lord's prayer may we hold before us the vision of an obedient and faithful people with hearts overflowing with love and compassion.
Amen
The Lords Prayer
Our Father in heaven,
hallowed be your name,
your kingdom come,
your will be done,
on earth as in heaven.
Give us today our daily bread.
Forgive us our sins
as we forgive those who sin against us.
Lead us not into temptation
but deliver us from evil.
For the kingdom, the power,
and the glory are yours
now and forever. Amen.
With so many people affected by the impact of COVID-19, it can be useful to structure our daily prayer. The Prayer for the Nation provides themes for each day of the week.
On Tuesdays and Fridays 0800-08.30, Prayer 4 Clevedon pray together into topics far and wide (over Zoom). To give this a try, ask Tim Simpson for the link: prayer4clevedon@gmail.com
If you would like someone to pray for you, or with you for something important to you, the contact for the Prayer Sheet and Prayer Chain is Jean Balcombe: prayer@christchurch-clevedon.org.uk 07810 027820
---
Worship Playlist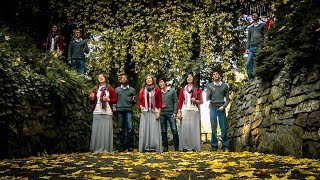 ---
Help and Support
The contact for the Prayer Sheet and Prayer Chain is Jean Balcombe: prayer@christchurch-clevedon.org.uk 07810 027820
For practical support for those isolating or shielding, there is a group of volunteers who will happily help out. For contact details visit Clevedon aid. Make use of those in your home group, and if you would like to be part of one contact our Carolyn Waite our home group coordinator through the church office.
Lastly, don't hesitate to contact us through the website or if urgent though the contact details on the newsletter.