---
Welcome to our Sunday Service
Easter is almost upon us. Next Sunday is Palm Sunday and marks the beginning of Holy Week. We'll have a video message for you on the website, every day throughout the week.
The Make Lunch team is hoping to add some Easter Eggs to the food bags they'll be giving out just before Easter. If you are able to donate some of the smaller-sized eggs, there'll be a box outside Christchurch's main entrance Friday morning (26th March), or contact makelunchclevedon@gmail.com.
And of course, sign up for our "Easter in a Bag" to celebrate Easter with us.
---
Welcome
by Clive Jennings
You are welcome to join our Zoom Session on Sunday Evenings. For details of how to join see the Newsletter or contact the church office.
If you are not a regular giver, please consider whether you would like to support our mission at Christchurch by clicking here. ---
My place of strength
When it's hard for you, when you are tired and you have no strength left at all, run to your place of strength. Find this place if you don't have one. If you don't know where to look, watch the video and you will understand everything. ---
Family and Children's Activities
for our younger members
---
Reading
given by Kathryn McManus-Jones
(click play button above to listen)
2 Corinthians 4:7-18 (NIV)
---
Message
"Showing the Life of Christ in our Mortal Bodies"
by Elliot Grove We show the life of Christ every time we take the side of the weak, the broken, instead of the powerful.
---
Prayer
Led by Sam Thompson
(click play button above to listen)
Father God, as we pause and reflect together now, we focus on you in this time of prayer.
We thank you that you are a generous God, and that we can take comfort in your love, especially during difficult times. Help us to be like-minded, by having the same love and being in one spirit and one mind. Help us to look for the interests of others with humility, above the interests of our own.
Father God, we pray for our country and our government, who bear the responsibility of managing restrictions on our lives and keeping us safe. We pray for wisdom among us and our leaders, and we pray and give thanks for all NHS frontline staff and key workers, who put themselves at risk every day to keep society going, which we too easily take for granted. We pray for those who are sick and bereaved, Lord be with them, comfort them, especially during this time of lockdown. We pray for those who are facing financial difficulty and redundancy, for they may be provided for. We pray for those who are isolated, lonely and fed up with these restrictions, and who yearn to be in company with others, fill us with the presence of your Holy Spirit. We thank you for the hope the rollout of the vaccine programme has brought us, we pray for the process of distribution and administering of the vaccines, not just in this country but globally.
We pray for teachers and support staff who have recently returned to schools, we give thanks for their resilience and perseverance while they have been preparing online resources, we now pray Lord that you will keep them safe in school while the virus is still circulating. We pray for all children and young people who have also returned to school, help them to flourish in their learning following this period of disruption, and give them your peace during this difficult time.
We pray for the family and friends of Sarah Everard following the tragic news of her death in recent weeks that has shook this country. We pray that they will be filled with your peace Lord in this traumatic time. We pray for our police forces and social services, who are investigating this horrific incident, and who frequently put themselves at risk for our safety.
We give thanks for the ministry of Bishop Peter in this our Diocese of Bath and Wells: for his wise leadership, for his gentle pastoral care for all those entrusted to his charge, for his integrity and his faithfulness, and for all that he has given to so many over the past seven years. You have brought him through these challenging months of sickness and treatment, and we give thanks for strength recovered and for hope renewed. As we learn with deep sadness that he must lay aside his duties as our Bishop, we pray for your blessing on him and Jane as they look to the future: enfold them in your love, fill them with your peace, and give them the strength they need to move through this time of transition and letting go. Give them the assurance that you will always hold them fast, that this time of loss may, through your grace, become a discovery of knowing you more deeply, serving you in new ways, and delighting in the life of their family. And we pray for our Diocese at this time, especially for Bishop Ruth, that you will give us patience and discernment as we seek the way forward, vision for the future, unity to support one another in uncertain times, and trust in your loving purposes for us all.
We pray for your Church here in Clevedon, help us to be united through knowing you and worshipping you. Fill us with your Holy Spirit and help us to be Christ-like, as we go out into the world.
And now we come together to say the prayer Jesus taught us.
The Lords Prayer
Our Father in heaven,
hallowed be your name,
your kingdom come,
your will be done,
on earth as in heaven.
Give us today our daily bread.
Forgive us our sins
as we forgive those who sin against us.
Lead us not into temptation
but deliver us from evil.
For the kingdom, the power,
and the glory are yours
now and forever. Amen.
With so many people affected by the impact of COVID-19, it can be useful to structure our daily prayer. This leaflet from Prayer for the Nation provides themes for each day of the week.
On Tuesdays and Fridays 0800-08.30, Prayer 4 Clevedon pray together into topics far and wide (over Zoom). To give this a try, ask Tim Simpson for the link: prayer4clevedon@gmail.com
If you would like someone to pray for you, or with you for something important to you, the contact for the Prayer Sheet and Prayer Chain is Jean Balcombe: prayer@christchurch-clevedon.org.uk 07810 027820
---
Worship Playlist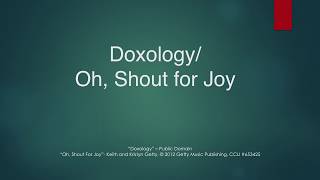 ---
Help and Support
The contact for the Prayer Sheet and Prayer Chain is Jean Balcombe: prayer@christchurch-clevedon.org.uk 07810 027820
For practical support for those isolating or shielding, there is a group of volunteers who will happily help out. For contact details visit Clevedon aid. Make use of those in your home group, and if you would like to be part of one contact our Carolyn Waite our home group coordinator through the church office.
Lastly, don't hesitate to contact us through the website or if urgent though the contact details on the newsletter.